How Running can change your life, my story about why and how I started to run, moving house, twice, and marriage.
At the time of writing this, July 2019 I have been running for 6 years, I started aged 46. This is my account of how running changed my life.
I am 52 years old and have a wife and two daughters . Six years ago I had never ran a step in the name of fitness or anything else. . Now its 6 years on and this is my story of how my life has been totally changed.
A bit of background first. I was born in Wales but due to a crappy childhood I moved away to live with and aunt and uncle when I was 10. At 17 I made the error of thinking the streets of London were paved with gold, they are not. After a far from settled few years I married at age 24. Far too young, the best thing about the marriage was my daughter who is now 25. The marriage lasted 17 years before my wife died. By this time we had adopted the second daughter Molly and I found myself as a single parent. I moved to Berkshire to start again and that never exactly went to plan. That was until I started running.
The years in Wales were very rocky to say the least, to put it bluntly, my family were rubbish. There is an exception but on the whole they were rubbish. Parents were always thinking of themselves and beating the crap out of each other. From 10 to 17 when with the aunt and uncle I messed up my school and the chance to get back on a good path. The school felt sorry for me so I played up and got away with it. 17 to 24 were spent moving from one London pub to another, as in living in them and working. Though most of those years, instead of knuckling down and making a career, I drank, went to football, was a pain to everyone and once again messed up the chance to get on the right path. At 24 I married, besides my 1st daughter not much else went well. By this time I was working but nothing with a bright future. It was my daughter and I against the world, or so it felt. I still went out and enjoyed myself, still went to the football and still had fun. I was driving Lorries at the time my wife died and as I said, had just adopted the second daughter. I had the bright idea of moving to Berkshire to start afresh, my eldest stayed put. That's an error of judgement on my behalf and one I have to live with. I should have been a better father to her. We are all good by the way, I just shouldn't have moved. She needed me, I let her down. Move done and it wasn't long into my new life when it went pear shaped. The end result was Molly and I living in a very small village near Newbury. We were the outsiders in the village and have never felt it was is our home. I had a couple of nice jobs and the people I work for are lovely, but that's it, it's not home. But where is?
So, to sum it up, I made a great job of messing things up, should of done better in all aspects of life.
What I have done right up to this point is hopefully bring Molly up and watch her become a very nice person, she is very similar to how the eldest daughter was at the same age. They are both great kids.
THE RUNNING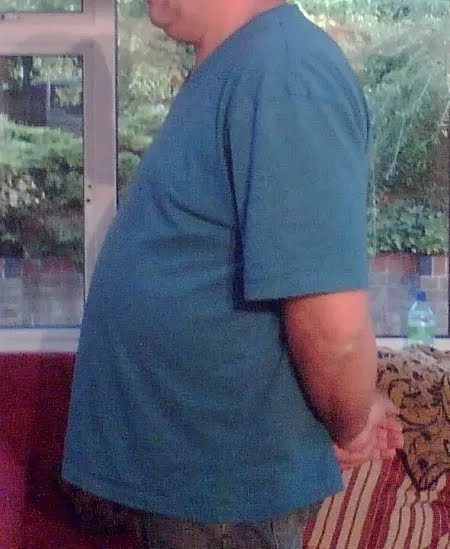 This was me in 2009.
Rather large hey. This was 30 years of never exercising, drinking and smoking. Weighing not far of 20 stone.
Roughly mid-July 2013 was my seeing the light moment. I had a bucket list conversation with a friend. I had 4 months earlier given up smoking and I said on my list is to run a marathon. I have had this thought occasionally when I watched the London Marathon on TV. So my friend said "well you best get up of your *** and start running then".
This is when my life started to change.
I got home and looked into it, what I do, how I go about it etc. I gathered I needed a plan. So I looked one up. The one that dragged me in was the 10k beginner plan on a site called the running bug. So I joined the bug. I wasn't thinking, hey, I don't need a couch to 5k plan; they just never come up in the search. So a 10k plan it was to be.
I joined the bug 1 week before my first ever run which was on the 27th July 2013. It was 2.27 miles in 23:34. I walked, crawled, jogged and died on this one.
I signed up for a 10k, I thought I was crazy. It was to be on September 22nd 2013.
Monday the 29th July 2013 I started on the 10k plan. That was 2.90 in 32:01.
Fast forward 8 weeks.
By the time the race had come around I had booked up another 10k, a 10 miler and a Half Marathon.
My reasons were that 1, its motivation and 2, I'm not rich, if I book them, and I'm doing them.
22nd September 2013 and my 1st 10k was local to me and I was as nervous as hell. I had been given, over the last 8 weeks, so much advice and encouragement. I soaked it all up. Was asking questions every day and learning things and words that had never been part of my life. plantar fascia, fartlek, piriformis etc, what the hell is that all about.
I ran the 10k, my 1st ever event in 58:45. I was seriously chuffed with myself.
After this one I went on to complete the10 miler and the HM that I had booked beforehand. Though I still needed to find a suitable marathon for a beginner. I had made my mind up that it needed to be an autumn race due to the fact I don't like the heat. So after much searching and much wine I signed up for the Snowdonia Road Marathon 2014. I did this on New Year's Eve 2013. The next day I read up about it and read how it's meant to be one of the countries toughest road marathons. I then announced it to the running bug world. In a very nice way I was told numerous times that I've done a crazy thing. But I thought, in for a penny, in for a pound etc.
So already in the 6 months of running my life had taken a turn for the better. I won't lie and say I was in love with running but I was more than happy to continue on this journey. The plan for my 1st marathon was to start on July the 7th 2014. A few weeks from my 1st anniversary of running. Up until that plan started, I did a few other 10k's and my 1st off road HM. But the most significant thing to happen was a private message from another person on the running bug. One who was not on my friends list till I signed up for Snowdonia. The reason for the message was to wish me luck and give me some advice on the Marathon, I was more than happy to listen as this particular bug had already ran the same race 5 times. The bug in question is Sharon.
Now me being a complete and utter novice with no idea of much in the way of training, nutrition, pacing, heart rate etc. Sharon was more than happy to help and officially became my online coach. Life was about to get even better for me. Sharnon was now the brains behind all of my training. Plans, kit, food, drinking, you name it, she was the mastermind. I just went out and did as I was told and the best I could.
My home life was going along nicely also, still myself and molly and my 2 jobs. But now I had a reason for doing something for me, running gave me a sense of pride and I was more than happy to of found something I can do for just me. Its only me, the running is me against me and I'm doing ok.
Since Sharon came on board though, I was now also running for her, and I loved it. Not only did I do the training and events for me, I was doing them for her. It was fantastic seeing her get more nervous than I was at one of my events. I would run the event and call her up, ( we hadn't met each other yet ). My 1st off road HM was the 1st she was involved with and together we achieved a great result. I called her minutes from the end and to hear her all emotional and chuffed to bits for me was rather special. Something was in the air. Someone was actually chuffed for me, that felt pretty good. No one in my past had ever encouraged me with anything. Though in fairness, I hadn't actually done much for anyone to be proud about.
So, it's July 2014 and the start of the Snowdonia marathon plan.
Things had moved on and Sharon had become someone very special to me. Its ok readers, I'm not going to get into mushy overload here but through running I had found this very special and extremely wonderful person.
We got through the Mara plan. During which we met up a few times and then completed the Snowdonia Marathon. My 1st ever Marathon. The result of the conversation I had with a friend. I did it in 4h:18 mins. Me, unfit fat boy had run a marathon.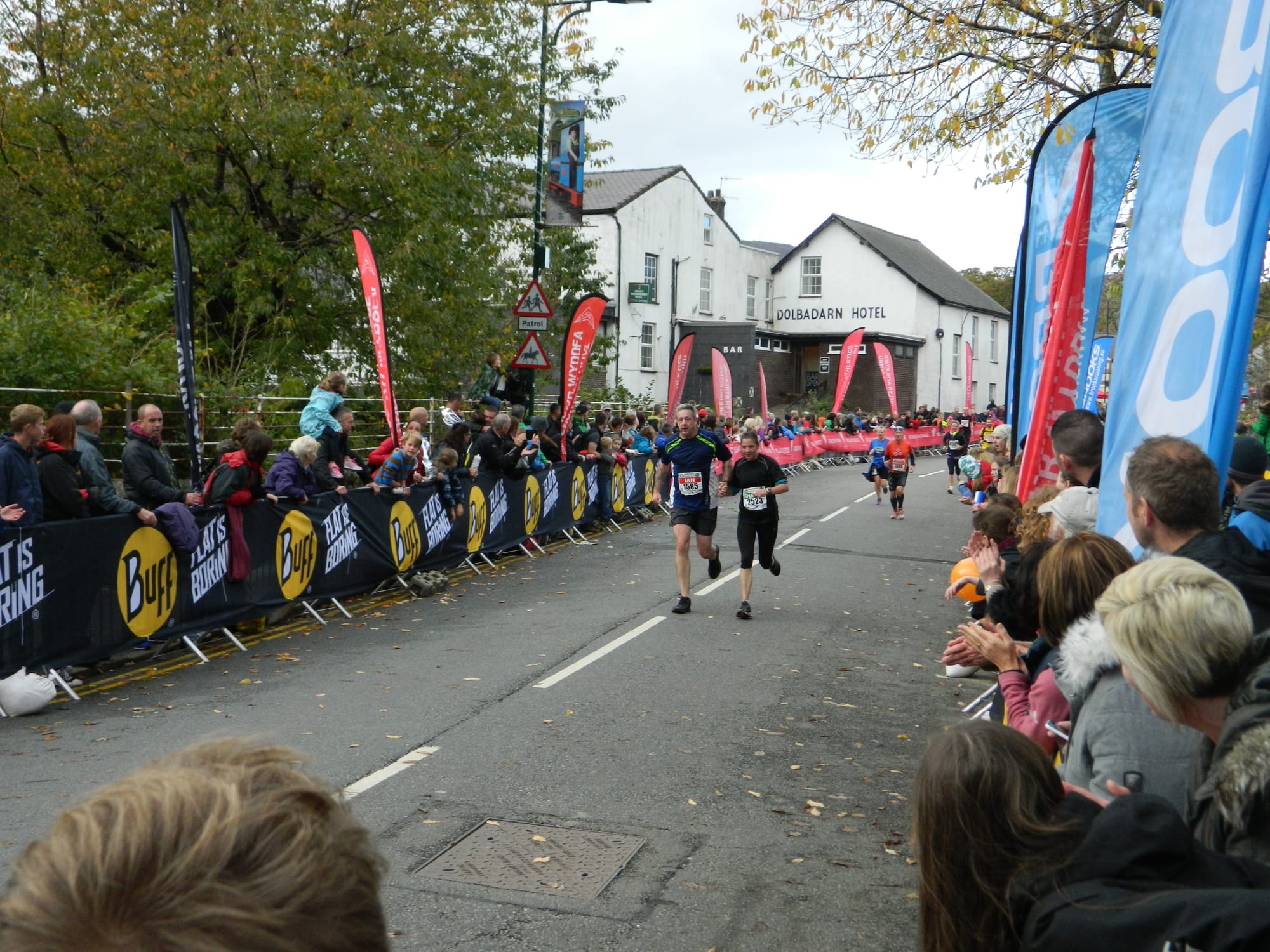 This is crossing the finish line at Snowdonia.
The year moved on with new running aims and life with Sharon. But it was clear that with me in the south and Sharon in the north it may not be the best situation to be in and if we wanted to be together, one of us has to move. Then came the hiccup. I stupidly decided that I did not want to disrupt life, mainly molly's but mine also and I got cold feet. This period did not last long but it was enough to dampen the spirits so to speak. But you will be pleased to know though that I came pretty quickly to my senses. Ian, you messed up so much in your life, why do it again. You want to be with this person, she wants to be with you. If you do nothing else right, don't screw this up. Get on the right path. I did. I put it all right; we made decisions and went for it. Christmas 2014 & New Year 2015 were going to so good. They were.
18 months prior I was doing nothing with my life, plodding on making sure Molly was ok. Now, molly is still ok, I've ran 2 marathons and I am with someone totally amazing. Running was still changing my life. The 2nd marathon by the way was on Christmas day, just Sharon & I. it was a tough run, but wonderful, we just woke up and ran a marathon, it was very weird that I was even in a position to do something that mad.
So 18 months had gone by and the running continues. I still don't 100% love it but there is no way I'm going back to the old me.
Plans had been made and we had a timetable of things to happen, not just in the running but also our lives. There is no way I'm getting of this path any more. This is my chance to make the rest of my life a happy one.
The plan in question was to be together, it was always going to be easier for me to move up north. So the natural thing to do was wait till molly had finished primary school and go for it. In the meantime I had the 3rd and 4th marathons to do. Blackpool, which was my first attempt at a sub 4 hour. I just sneaked in at 3-58. Then came my 1st off road Mara.
I then started a plan for my introduction to the ultra-world, a 30 mile run in the peak district. Ok, in ultra-terms not massive but for me it's huge. So once again, for this once lazy fat boy the very fact I'm thinking of doing this proves running has changed my life. Unfortunately after 12 weeks of the plan and with 4 more to go, plans ground to a halt, I had an injury, my left calf, I pulled out of my first ever ultra. In the next 4 weeks I only managed a 40 min run as the longest. I had seen a physio for the 1st time and it turns out, my lack of stretching and doing nothing but running has caused me problems. Things need to change rapidly in that department. May I just point out that I was of the opinion I was doing enough work just running. ( i still think that way) Sharon however had been pulling her hair out trying to get me to do the stretching, I selectively ignored her advice, lessons had to be learnt. Therefore I can escape the non-cross training etc. no more. So the plan now is for pretty much 4 weeks rehab before starting on the next marathon plan which will be Snowdon once again. That one I don't want to miss.
Anyway, besides the running, other things have moved swiftly on. In the past month or so we had been driving up the M6 moving stuff, packing, unpacking, tip runs etc. everything has been moving full steam ahead. I had been winding things down in Berkshire in preparation for the big day.
That big day arrived on the 22nd of July 2015 when I drove up the M6 for the last time. the relocation had taken place and Sharnie, Molly & I start our new lives together.
It is now August 2015. We have now been under the same roof for a few weeks and life is pretty amazing. We decided I need to start the Snowdon Mara plan. So with keeping rehab in mind still I started the plan. My left calf is still giving me grief and it gets me down. Especially as the leg can feel fine until I take the 1st step of a run, then it immediately hurts. But today, I have just run for an hour and there has been much improvement. I need to do lots of stretching, such joy. But was very pleased to see improvement. It has to get better as I am not missing Snowdon unless my leg is hanging off. ( my mindset soon changed) This race means too much to me. It is the race I set my sights on as 1st Mara and if not for this race I wouldn't be where I am today, with Sharon.
So, let me sum all of this up so far, in 2 years I have gone from being a dreamer to a doer. I started running and have in my short running career achieved what I set out to do and so much more.
9 x 10k's with a PB of 49:15
3 x 10 milers
5 x HM's with a pb of 1:49:20
4 x Marathons with a PB of 3:58:10.
Ran 2311 miles over 400 runs
Met someone totally amazing
Moved from one end of the country to the other.
THE BIGGEST CHANGE, MARRIAGE
Lets just go back a few weeks, its Saturday the 1st August 2015.
We were in Ironbridge Shropshire. Sharon was to compete in an off road trail event. I dropped her off at the venue and promptly left. That felt very strange but it had to be done as I was doing a round trip of hopefully 3 and a half hours to take Molly to stay with relatives. My task was to get back in time to see sharon finish. I made it back in plenty of time thankfully as I had something I needed to do. Waiting at the finish line at the very low key event I decided what I will do. Sharon crossed the line with a new Marathon PB, not just an off road pb but an overall Mara pb, by 5 min. very impressive and I was and am so proud of her.
So everyone was happy, race photos had taken place and I asked the organizer for his microphone, had to tell him why 1st though. I started my speech with telling everyone about the PB, they clapped. I then said that this seemed a great opportunity to ask Sharon, will you marry me? Thankfully she said yes and I could let my nerves disappear. Again the people clapped. It was a fine moment. I have been made a very happy person.
So there we have it, how running can change your life. Well, how it's changed mine anyway.
Now of course all of this would not have happened without the Running Bug. It's how we met. So a huge thank you must go to everyone on or has been on my friends list over the years. You have all helped so much. And for all the friends who continually support me, comment on my runs and have sent me no end of support, I thank you so much.
It's with the Running Bug in mind as to what followed next.
We decided that as we met on the Running Bug we would have a bug related wedding, so we set about planning what we wanted to do and then sent out an open invitation to both our friends' lists. We were going to have a very low key wedding one day and a great big bug meet and run the next. We sent out the invitations and set about organizing the event, this was going to happen all at the same time as the Snowdon marathon and moving house, very busy times ahead.
The first round of organizing went so easily, we knew Keswick would be the right place to hold the bug event so went there and within a few hours had booked the venues for the bug meet and the family meal on the Friday as well as roughly knowing a run route that we would take everyone on.
Then it was booking our accommodation which went well and being the old romantic I am I had arranged champagne and chocolates on arrival. (turned out the guest house gave them to us with their compliments which was a very lovely thing to do). We were overwhelmed by the response we got to the invitations, this was going to be a fine bug event if it all went well. I say because other than family, we were inviting strangers, we only knew them online.
Over the next few weeks we compiled the list of bugs who were attending the event, this was done 1st, before other invites were sent out as we wanted our running friends to have every chance to attend. Once I had the full bug list, we completed the lists of guests with family and friends. During all this time I was in talks with the medal company ( to give to the runners) lots of talks with the medal company. It's not as easy as I had thought, some you can't have the logo on, some you can't engrave etc. etc., but I think the end result was very satisfactory.
The other thing of course was the cake, we decided not to have the traditional 3 tier cake but to have 2 bug related cakes, one fruit based the other sponge. Again I think these came out very well.
So, with everything pretty much sorted with the wedding organisation we headed off to Snowdon, it was nice to have a few days away and a break from organising. Snowdon was different for us both for run reasons but what went really well for both was meeting up with fellow Running Bug members Graham, Amanda & Vicky. None of the 3 could make the wedding run, so it was good to have a chance to meet them. Anyway, the diversion from wedding plans was soon over and it was time to finish the last details of the wedding.
The next 2 weeks went very quickly, mainly due to moving house. This all came about and happened very quickly. It was the schools half term so basically Molly and I kept loading the car and doing the 8 mile trip about 4 times a day for a week. In the evenings and the weekend Sharon mucked in also, it must have been a very tiring time, working all day then moving in every spare moment. The two girls were superstars. We got it all done though and in the background the last minute wedding weekend plans were all wrapped up.
Besides the odd person who wouldn't be able to make it, or the odd extra being added then everything was sorted. Medals, cakes, venue, caterers, music & the run. There was nothing else to do, if anything had been overlooked or forgotten, it was now too late to worry about it.
The big day
Friday the 6th November 2015.
By this time we had my eldest daughter and her fiancée staying the previous night so on the Friday morning we were free to go do our last run together as single people. It was a nice relaxed morning and no running around like headless chickens just yet. We set off to do the run on a route I found a few days before. It was lovely weather and besides Sharons Achilles' issue all went well. It was a lovely run on the trails for about an hour.
Then it was the turn of my daughter, her fiancée and Molly, the former 2 are doing the C25K (none of them completed the C25K)
With everyone back from the running, the next time we leave the house will be to get married. The weather was holding out for us and all went very well. Was a very low key event in terms of guests, only 7 of us, but that's what we wanted. What wasn't low key was how stunningly beautiful Sharon looked. There could not have been anyone anywhere or anymore proud than I was whilst standing next to Sharon saying our vows. Though I do believe at one point we got the giggles but everything went perfectly. We walked out of the room Mr & Mrs. Extremely happy and totally loved up. I had arrived here from a conversation just over two years beforehand.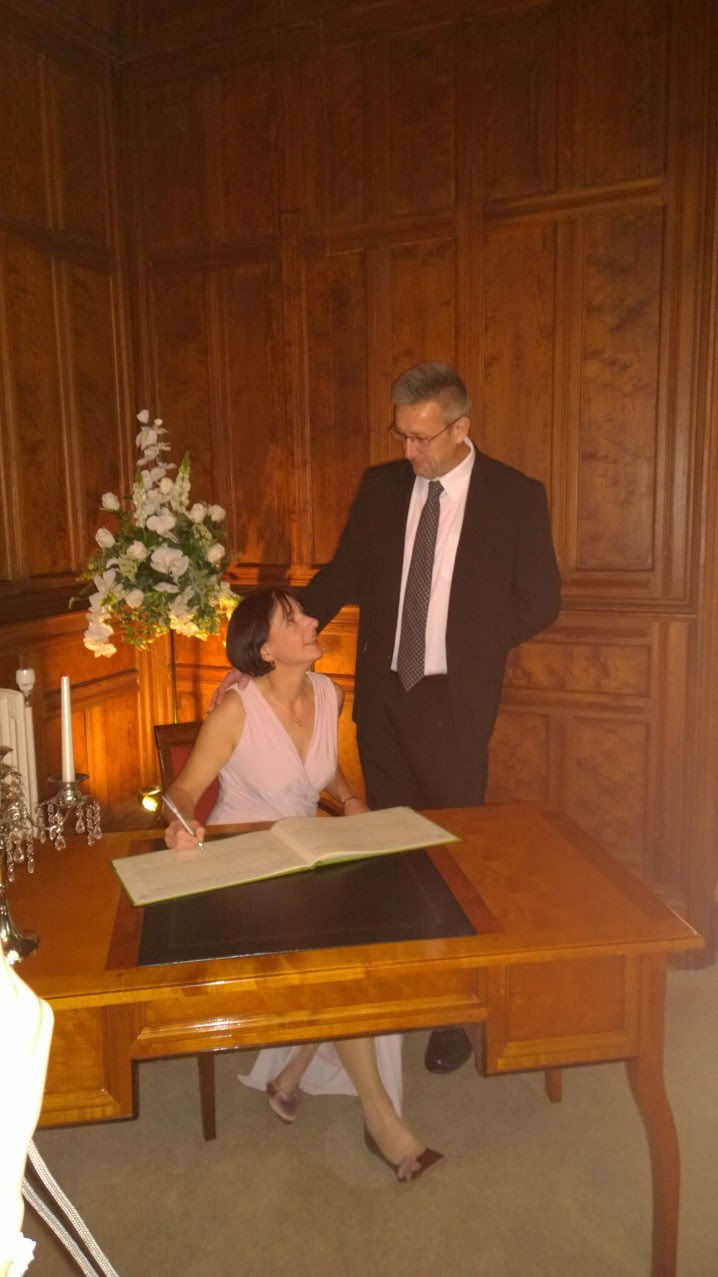 It was now time to go to Keswick, for a lovely family meal, and the rest of Friday went very well indeed, so far not a single hiccup along the way.
Keswick was also the venue for the bug run. All the getting married nerves could now disappear and be replaced with the 'we hope everything goes to plan nerves'. There was nothing more we could do now but it doesn't stop you worrying that there are lots of people, travelling lots of miles, paying out lots of money and they are there for us. Some of these lovely people we had never met, lots had never met each other, and I think a few nerves were justified.
The Big Bug Run
Saturday 7th November
The 1st thing to do was to go and put up signs along the route. We drove the short distance to Keswick rugby ground and the weather was lovely at 7 am. We started the run while stopping here and there to put up the signs. Though after 10 mins the heavens opened up, we got soaked but it was still good fun and of course our 1st run as a married couple, wonder how many other couples have done this, not many I bet.
The Bug Run
After we had given out all the venue details we waited in the car park to see if everyone was going to turn up, it was now 12pm. The weather was at this time a little drizzly but not too bad. Very quickly everyone started to arrive, some were staying in Keswick over the weekend, and some were driving a long way just for the run. The back of the car was packed with Water, cups, medals, and after run cake. It was the task of Molly and my eldest daughter Ellis to look after and then distribute said items. They did a fine job. With people now arriving all the time a nice steady crowd was gathering. It was great to see the ones we had met before and also all the ones we had not. We had people from the Bug, work friends and Molly's old primary teacher from Berkshire. 2 bugs, Karen & Sharon ( a different sharon) were doing the long drive just so they could do the run then head off. Sharon kindly supplied us with the chocolate brownies & lemon drizzle cake everyone enjoyed after the run.
So, with everyone there I kindly handed over the talking bits to Sharon who did an expert job on introducing everyone, pretty much remembered everyone's name on the introduction. After all the waiting and chatting it was time for the run.
Off we set, out of the car park down a short road, over a field and thru a gate and we were besides the lake. Sharon was leading the group of 30 ish runners and I was at the back, least I wasn't going to take everyone the wrong way. Most of the group proceeded to get away from us and I pretty much ran the out stretch chatting to the stragglers. It's a pretty much straight forward run alongside the lake ( Derwentwater) mostly path which by now had loads of puddles. We passed lots of walkers along the way and were not far from the turn around when the front runners passed us on their way back. We passed a few others along the way and could carry on safely in the knowledge Sharon was now at the back and collecting the signs, so no one can get left behind. Back over the paths, the little footbridges and the field. Chatting away nicely to Bill when we hit the end of the field, it's a bit wet and slippy by here but if taken carefully all will be good. As I was remembering how slippy it was on the earlier run I was just about to warn Bill, but the words hadn't even formed in my mind before oops, over he goes. It was a good proper fall which resulted in Bill getting covered in mud. No harm was done and these things do add to the occasion.
Back to the car where molly was taking her duties very well in making sure everyone had a medal, cake & water. Everyone arrived back safely and all seemed to of enjoyed themselves. Everyone was chatting to each other, telling each other about their runs, a few did get lost despite our efforts. The kids were chuffed about running 5 miles but not so chuffed at falling over, people who hadn't ran for ages being really chuffed. It was a great end to a great run. We had to have a group picture didn't we?
The Medal.

The runners, can you spot who's who?
With the run over we all headed our separate ways to prepare for the evening get together.
7pm Keswick Rugby Club.
We actually arrived at 6 pm and had a frantic blowing up balloon session and getting everything ready before everyone arrived. A well-earned beer was then consumed. The guests then started pouring in and there was lots of meeting and greeting going on. The music was in full swing and we expertly avoided doing the 1st dance as is commonly done, but this wasn't a commonly done wedding, it was a Running Bug wedding. The evening went great and it was wonderful to meet everyone who couldn't be at the earlier run. The kids were fantastic and were up dancing all night, there were some pretty good movers amongst them. The food all went down a treat and thankfully there was enough for us all. We did have a cake cutting moment which went well and I left the cake handing out duties to Ellis & Molly. I also expertly, (for the 2nd time on the day), left the talking bits to Sharon. The evening flowed really well, as did the beer, the chat and the fun. It was great meeting everyone and I think everyone enjoyed meeting the bugs who had been on each other's friends lists for so long but had never met each other.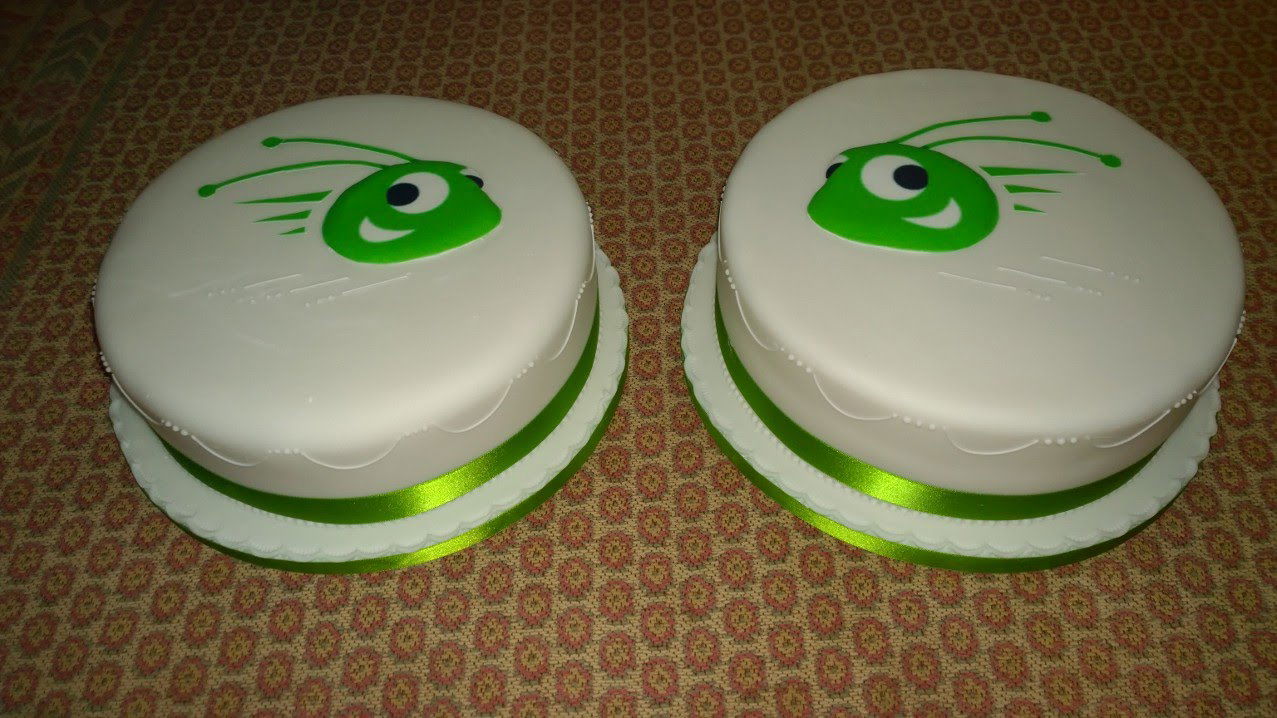 Bug wedding cakes.
So there you have it, the weekend sewn up and a few pics thrown in for good measure.
It was a great weekend and one we will always remember. The wedding was the most special day and an obviously important day in my life. The Saturday was also very special and that was with the help of the online running friends who made the effort to be there.
That is my story of how running can change your life. On the 20th July 2013 I had the crazy idea of running a marathon. The 27th July I took my 1st running steps. Since then there has been numerous 10k's, HM's and 57 x marathons & ultras. There have been so many great races and a few not so good, it's been tough but also fun. I still can't say I'm 100% in love with running, I never go out and have what I call happy clappy I'm at one with nature type of run. But I always look forward to the next run, I love being on a plan and I love the end result of a plan. It's still me against me, if I want the results I have to put in the work, if I don't then I not only let myself down, but my coach and wife. Now, here I am married for nearly 4 years, while 6 years ago I was going nowhere, making nothing of my life… so it's definitely official
RUNNING CAN AND HAS…CHANGED MY LIFE.
The last words have to go to my wife, you are my inspiration, my driving force, the reason I'm sitting here able to write this, you are amazing and I love you very much. You have changed my life as well as running.
Has running changed your life ?
Check out the Running Bug here.